As they folded in and breached out (ruffled orifice)
2022
Glazed stoneware
15 x 14 x 13 inches
As they folded in and breached out (turquoise mouth flowering)
2022
Glazed stoneware
20 x 9 x 9 inches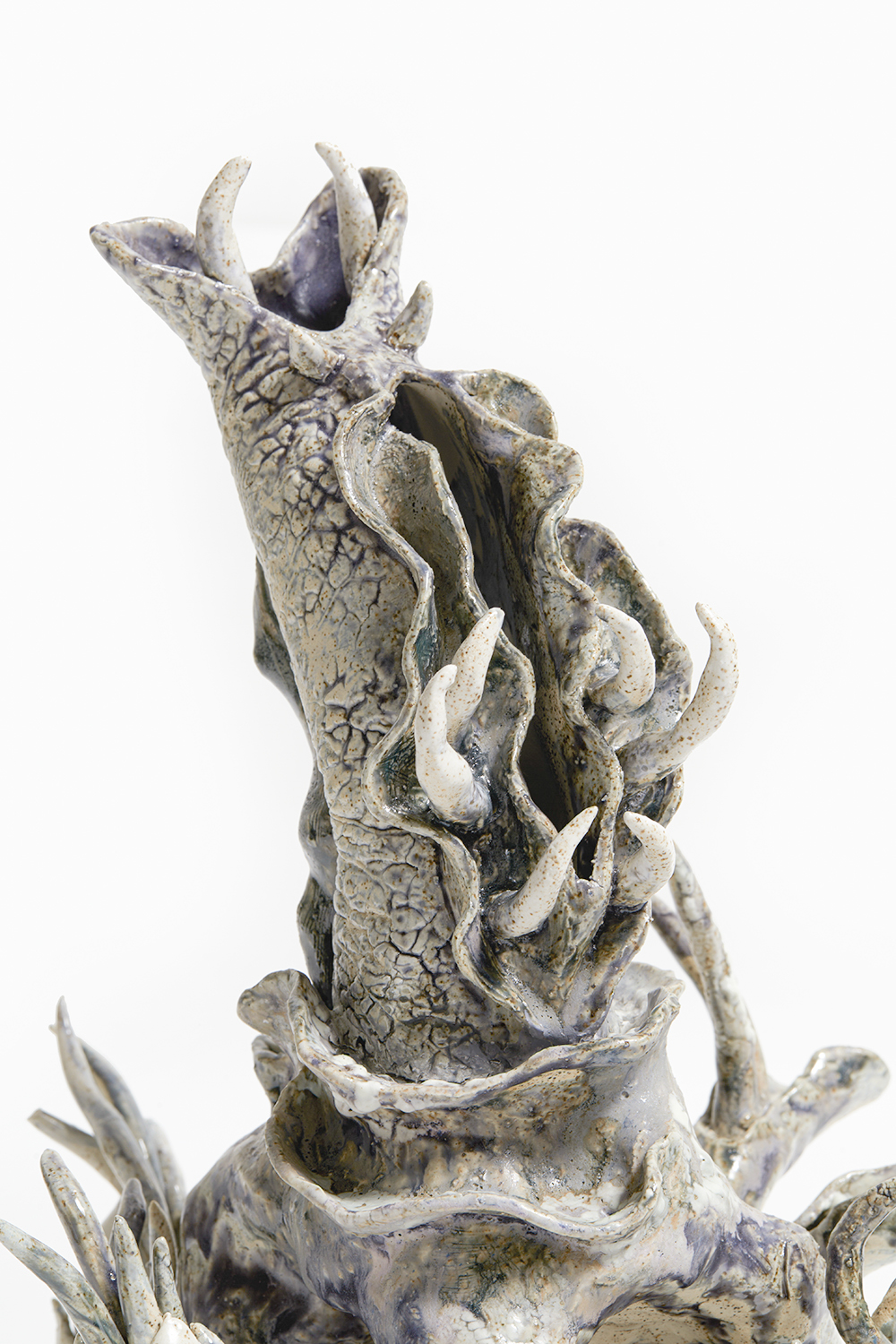 As they folded in and breached out (shelless)
2022
Glazed stoneware
20 x 9 x 9 inches
As they folded in and breached out (Moss)
2022
Glazed stoneware
13 x 9.5 x 10 inches
As they folded in and breached out (three leggy)
2022
Glazed stoneware
12 x 8 x 8 inches
As they folded in and breached out (bursting)
2023
Glaze stoneware
18.5 x 12 x 12 inches
As they folded in and breached out (tentacular)
2022
Glazed stoneware
17 x 10 x 11 inches
As they folded in and breached out (sprout)
2023
Glazed stoneware
11 x 7 x 7 inches
As they folded in and breached out (slough) I
2023
Glazed stoneware
18 x 11 x 10 inches
As they folded in and breached out (slough) II
2023
Glazed stoneware
18 x 11 x 10 inches
pabulite (wet flame)
2022
Glazed stoneware
39 x 28 x 3 inches
pabulite (eye of the sea portals)
2022
Glazed stoneware
39 x 28 x 2.5 inches
pabulite (swirling teeth)
2023
Glazed stoneware
33 x 33 x 6 inches
pabulite (primordial bliss)
2023
Glazed stoneware
31 x 38 x 4 inches
pabulite (drifting root)
2023
Glazed stoneware
41 x 35 x 4 inches
As they folded in and breached out & Pabulite
Glazed stoneware
2022

This bodies-in-flux perplexed the boundaries across animal, vegetal, fungal, and mineral, indicating an erratic climate and manifold evolutionary path. As they folded in and breached out (2022) resemble fragments of the offshore - barnacles, algae, marine invertebrates, as well as residues of amphibian scales, tendrils, gills, limbs, and the indeterminate. The forms invite further pondering over the relationship between these elusive organisms - whether they are symbiotic, mutualistic, parasitic, cancerous; or merely bizarre conglomerates of objectiveless growth.

Pabulite is a term proposed by a recent Paleontological study to describe the discovery of hybrid fossilized remains of a crustacean, a belemnite, and a vertebrate, caught in the digestive process from the Early Jurassic Posidonia Shale. Comprised of the Latin words pabulum for food and the Greek word lithos for stone, the word inscribes living entanglement in petrified form. Appeared as shedded skins or erode landscapes, these indefinable bodies render the unsettling poetics of deep ecology, while alluding to the mythology of the inhuman that connects unimaginable ancestral traces with radical metamorphism in changing environment.