Each Infinitesimal Dot
2022
Laser engraved Athabasca clay
Lost in a Fathomless Sea
2022
Atmospheric fired earthenware and stoneware, sodium bicarbonate, ashes of spruce, pine, birch, poplar, cottonwood, and dandelion, oxides, yeast, insect wings, aluminum, cement
Dimensions variable


Ardor For Unconformity I/II
2022
Earthenware, wood ashes, volcanic ashes, bone ashes, oxides
17.5 x 13 x 1 inches; 14.5 x 13 x 1 inches
Ardor for Unconformity III
2022
Earthenware, wood ashes, sodium bicarbonate
17 x 6.5 x 1.5 inches
Spill
2022
Earthware, aluminum
The Nightly Death I
2022
Raku stoneware
The Nightly Death II
2022
Raku stoneware, paper ashes, smoke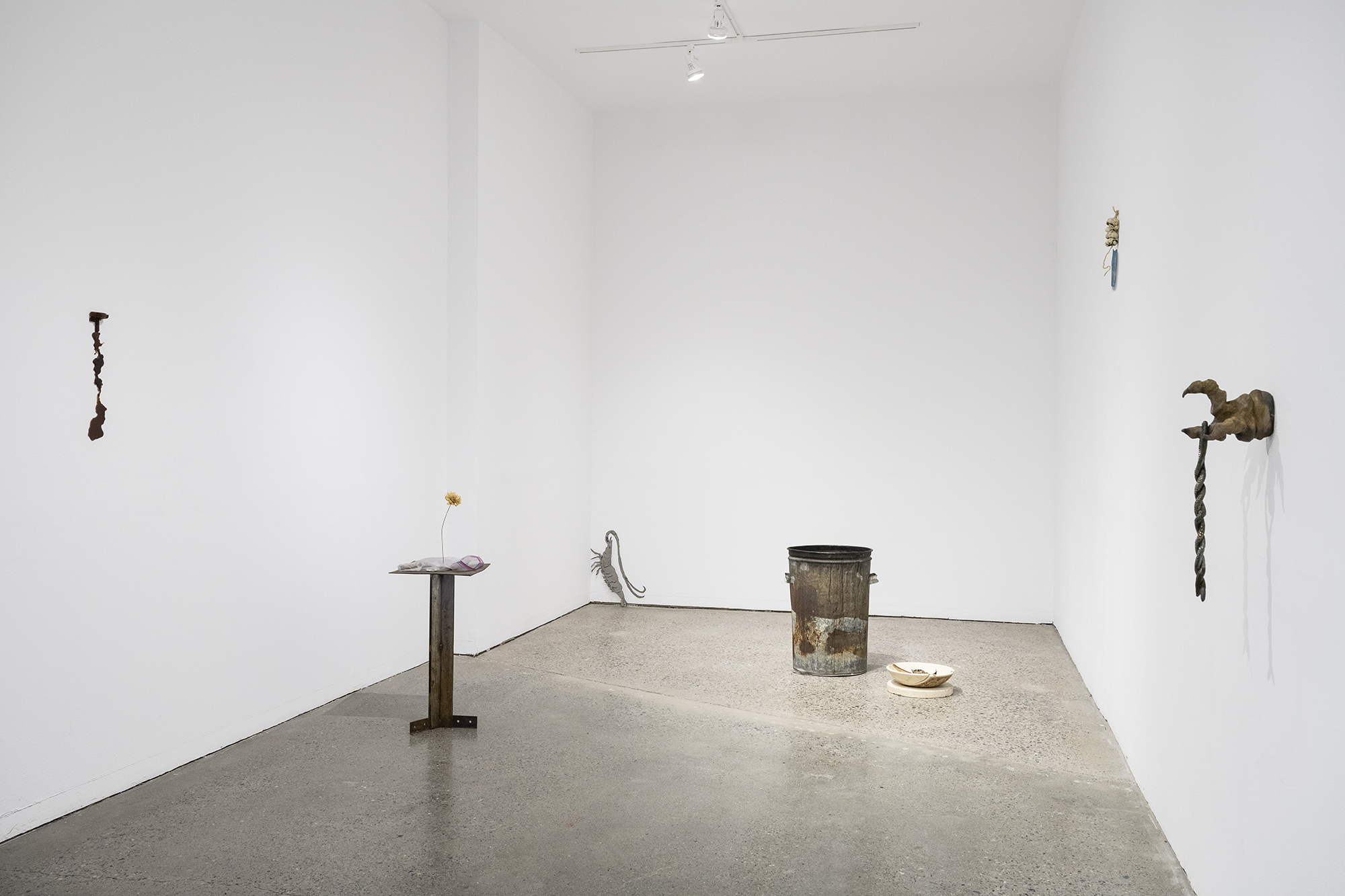 Installation view at exhibition
chthonic spoil
at Banff Center.
Porous Coagulations
Sculpture, installation
2022

Presented as a fictional archeological site, Porous Coagulations explores the material kinships between intertwined temporalities and incompatible scales, in relation to the geological and biological co-evolution of the local environment. This work is created during a residency at Banff Centre for the Arts in Banff National Park, Canada.

The earthenware sculptures are made with clay and wood ashes sourced from the Athabasca riverbed in northern Alberta, where the oil sand mines are located. The thick layers of porous rocks consisting of muskeg, glacial tills, sandstone, and shale from the Cretaceous period, host massive deposits of petroleum in the form of bitumen. Unlike the manufacturing substance such as tar, the naturally occurring bitumen of oil sand was formed from deposits of marine organisms such as algae and zooplankton at the bottom of the vast sea that once covered ancient Alberta. As a consequence of extractive activities, these long-dead beings now return to our lives manifesting their presence as fossil fuel remnants in polluted water, soil, and atmosphere, becoming a paradoxical kind of kin, as described by Métis anthropologist Zoe Todd. Through re-activating these earthly materials in which embedded the more-than-human histories, the work poses such a question: How might the material transfiguration between organic and inorganic guide us in navigating through ethics of scales and relational affinity across a myriad of networked life-forms?