The Soft Moon I,
2021, resin, paint, hand-blown borosilicate glass, 21 x 16 x 5 inches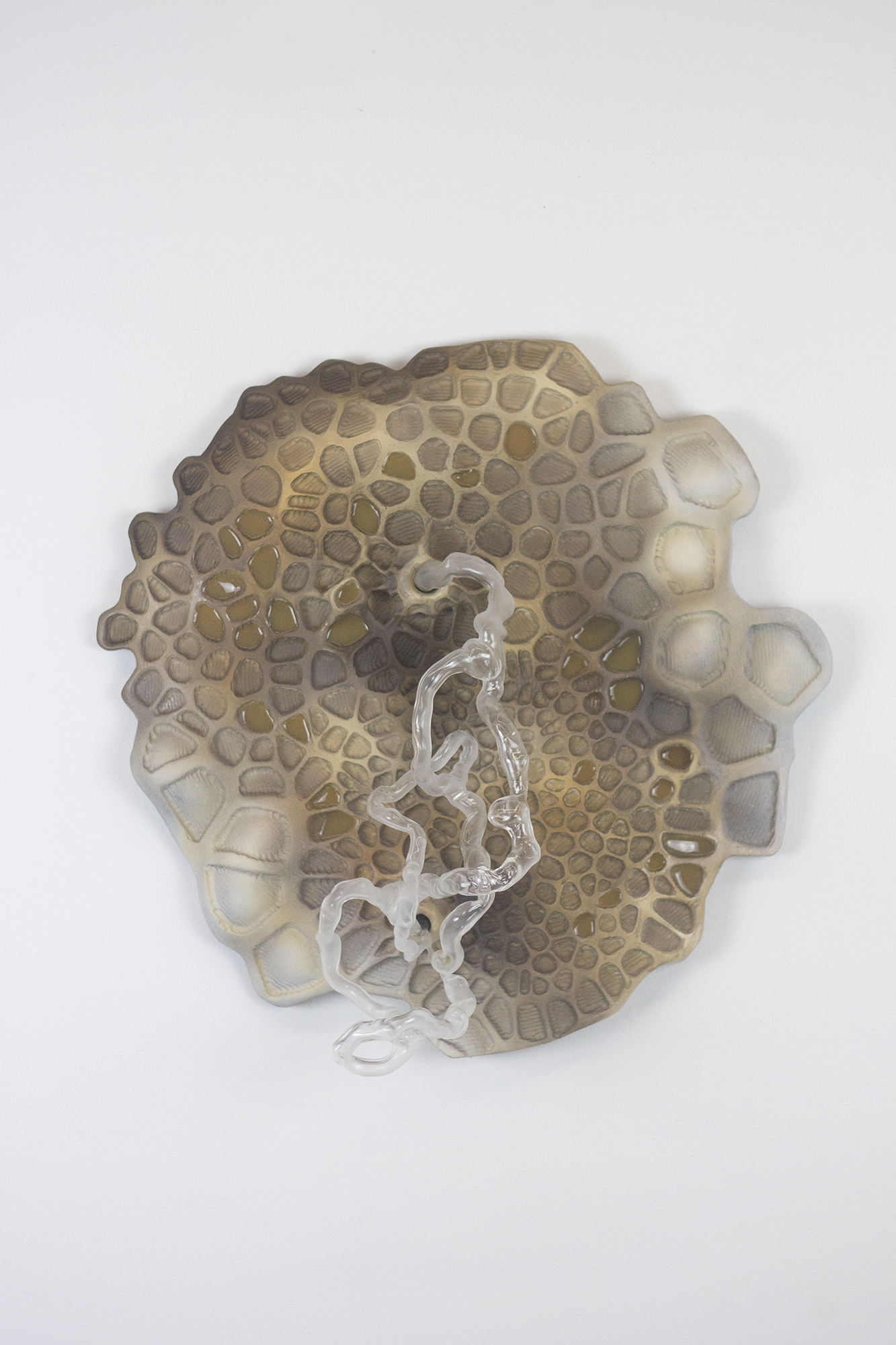 The Soft Moon II
, 2021, Resin, paint, silicone, hand-blown borosilicate glass, 19 x 19 x 5.5 inches
The Soft Moon
Sculpture
2021

This series draws inspiration from Italo Calvino's "The Soft Moon," which challenges the assumption that ancient cataclysmic events on Earth occurred before the existence of life. Instead, these events unfolded in a highly advanced civilization destroyed by lunar bombardment, and subsequently replaced by our modern society. In the story, the protagonists have contrasting reactions to the Moon's proximity. Sibyl finds the Moon's raw materiality captivating, while the narrator feels apprehensive and repulsed. The narrator contemplates retrieving original materials from the Moon but doubts their viability due to its deteriorating condition, while questioning the "superiority" of Earth's modern materials. Symbolically, the Moon represents a foreign entity drawing closer to Earth, offering a metaphorical commentary on resource extraction from the Earth.

The sculptures in this series depict remnants of that cataclysmic moment, featuring synthetic terrestrial forms that reflect the modern society portrayed in the story, where there is a continuous reconstruction of the Earth's surface using artificial substances in an effort to conceal the alien residues of the moon (representing nature). The surface suggests some kind of geological force while marking the imprints of both human and machine, and the hand-blown glass protuberances and tendrils indicate a transitional state across the threshold between the world of organic and inorganic. These fictional landscapes are generated by deep learning software trained on photographs taken from the remote wilderness, as well as generative algorithms that simulate biological structures; then materialized through a combination of digital fabrication and meticulous hand-making techniques.